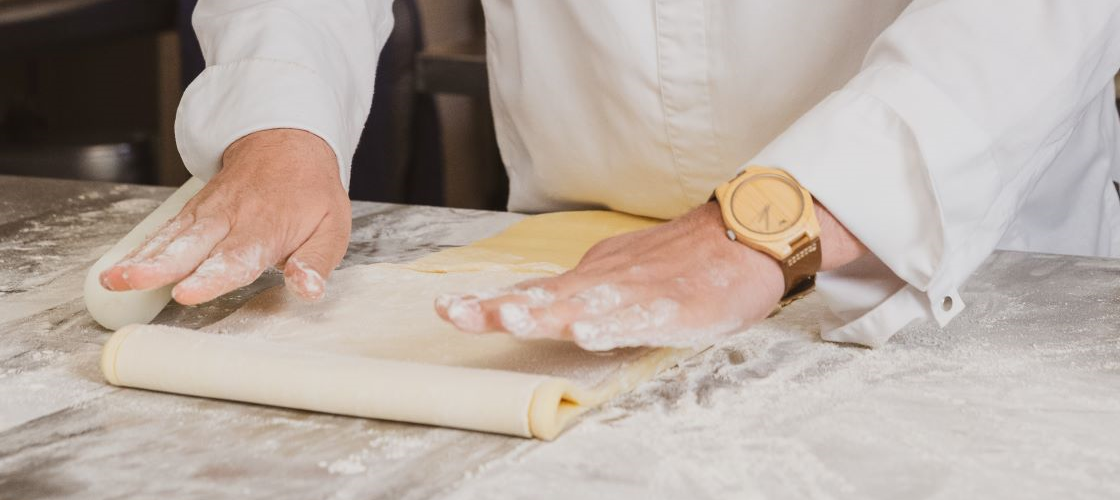 Interview with a Comitted Artisan: Benoît Castel
For Benoît Castel, reducing waste is a real challenge that returns raw materials to their place at the heart of craftsmanship. And it's a big success!
"If we started to respect our raw materials, that is to say throw out less, we would save a lot of time."
You describe your shops as places of life, can you explain why?
Today, businesses are evolving. With everything that has happened over these last few years, it has never made more sense for a bakery to be a place of life, a living space. I am in my shops, I am in direct contact with my customers and that is really very important. Sensing right away, listening to my customers…
Is there a commitment that stands out in your work?
There is the anti-waste approach that we began a long time ago in our pastry making activity. For example, we save all our apple cores and peels and make glaze with them.
For two years now, we have been making a bread called "Yesterday's and tomorrow's bread". We take all the unsold bread at the end of the day and use it to make new bread. That allows us to make the best use of our raw materials, and to the very fullest.
What is your mission as an artisan?
I always say that as artisans, we have an important role in choosing our ingredients. My teams and myself enjoy sourcing, we are interested in meeting the person who grows and delivers the products to us.
How does that add value to your pastries and viennoiseries?
We work with an exceptional butter and with organic flours supplied by millers who grow their wheat. People know that and that's why they come to our shop every day.
France has an important dairy farming culture. As far as I'm concerned, you can't make good pastries or viennoiseries without good butter. It's our duty to use a very good butter, like Lescure butter, which contributes considerably to the flavour of our pastries and viennoiseries.
Once we've fine-tuned our recipes using a reliable product, one that always results in good taste, we can perfect our détrempes, ensuring that we've got optimal plasticity. And the results show through in the flavour.
What is your flagship pastry?
The millefeuille, it's good, it's a classic. It consists of a pastry cream made with fresh milk, vanilla bean and very good inverted puff pastry, that's it. The butter surrounds the pastry, so when it's baking, the butter takes on a hazelnut flavour that makes for an extremely decadent treat.